Regular price
$399.00 USD
Regular price
$900.00 USD
Sale price
$399.00 USD
Unit price
per
Sale
Sold out
The Nokia 5G FastMile Gateway 3.2 (5G SIM) provides lightning-fast download speeds and an extremely secure connection thanks to its 5G technology. Enjoy faster speeds and enhanced connectivity with the Nokia 5G FastMile Gateway 3.2 and its easy-to-use features.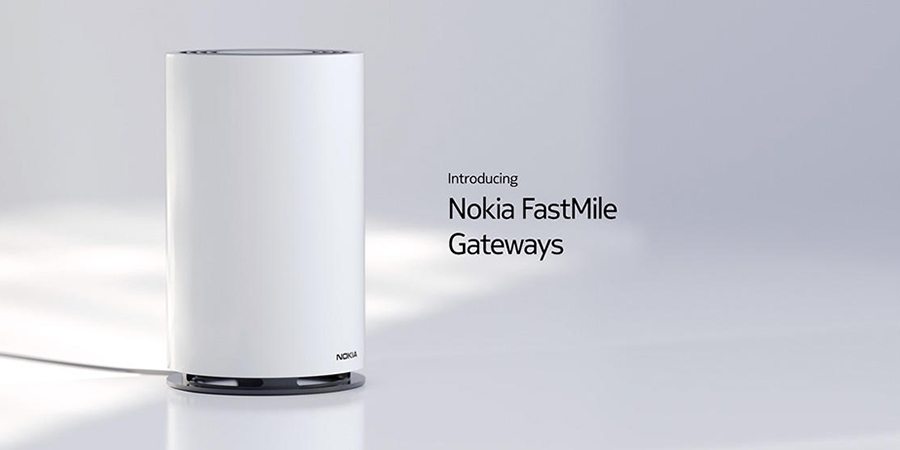 Highlights
Ever wonder why we live in a wireless world and still use wires to connect our homes to the internet? Fiber is fast, but today's wireless networks are fast to delivering ultra-fast broadband with 5G
No need to wait for an installer to come to your home. With FastMile Gateways, setup is as simple as plugging it in. Our device display visualizes the connection strength and direction so you can easily find the best location in your home
5G is ten times faster than current LTE speeds. It's not simply a new standard for mobile devices, it will quickly become the standard for home and small business communications. It's available today through our 5G gateways
Nokia is an industry leader in antenna design. Nokia FastMile Gateways use a unique indoor antenna configuration that connects your home at the highest possible speed for lag free gaming and video streaming
Our gateways provide high-performance WiFi in your home using our Nokia WiFi technology. If you have a large home, simply add Nokia WiFi beacons to create a true mesh network for complete coverage
Overview
With 5G in the mid-bands you can offer broadband services to users anywhere in your 5G footprint, generating new revenues with your investment in 5G. Our 5G fixed wireless access gateways are fully self-contained, combining 4G and 5G radio to connect homes and businesses with Nokia self-optimizing mesh Wi-Fi 6 inside the premises for an unstoppable broadband experience. They're easy for your customers to self-install using our smartphone app and visual cues on the gateway itself. And with visually appealing designs, they will be at home in your customer's home. Every home is different. The geographic location, building materials, window treatments and other obstacles can all make a difference as to whether a signal can be clearly received indoors. Nokia FastMile 5G receivers can be installed indoors or outdoors, on a window, on a table, and even on a wall or pole. With high gain antennas (8dBi) and a 180° field of view, there is no need to point them directly at the base station to get good Fixed Wireless Access (FWA) service. In Addition, the unique window mount design requires no tools to install so customers can install it themselves easily even when it needs to be mounted to the outside of a window.
Specifications
| | |
| --- | --- |
| Antenna Type | Internal |
| Portable | Yes |
| High Quality | Yes |
| Easy to use | Yes |
| Sleek Design | Yes |
| Durable | Yes |
| Band Technology | Dual Band |
| Brand Compatibility | 4GSystems |
| Charging Type | Type-C |
| Colour Name | White |
| Connection Type | Wifi |
| Connector Type | RJ45 |
| Feature 1 | Personal |
| Feature 3 | Ergonomic |
| Feature 4 | Indicator Lights |
| Feature 5 | Business |
| Form Factor | Plug In |
| Max Data Transfer Rate | 3 GBps |
| Model Name | Nokia FastMile 5G Gateway 3.1 |
| Model Number | 5G12 - 13W-B |
| Item Qty | 1 |
| Number of Ports | 4 |
| Number of USB Ports | 1 |
| Product Height | 21.85 cm |
| Product Length | 12.5 cm |
| Product Weight | 1.77 kg |
| Product Width/Depth | 21.85 cm |
| Usage Type | Home |
| USB Generation | USB 3.0 |
| Wattage | 41 W |
| What's In The Box | 1 x Routers |
| Wireless Standard | 5G |
| Wireless Standard Value | (802.11b/g/n, 802.11ac) |
| Wireless Technology | WiFi 6 |
Share
View full details